Quantum Promo and Print
You have arrived here because you are in search of the perfect advertising or promotional item. We have many thousands of items to choose from. Take a look and if you have any questions, feel free to call or email us.
Quantum Promo and Print , is a division of Quantum Printing LLC is your all-inclusive resource for promotional products.
Corn Hole Game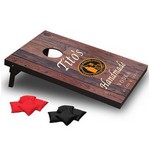 Cornhole Sport 24" x 36"
"Wood Look" products feature a digitally printed faux wood background on our best selling items. Available in a variety of woodgrains and finishes. From rustic weathered pine to fine finish cherry, Wo...
$126.66 - $188.27
Signature Showrooms